Late last week, a single tweet from Basecamp's Jason Fried sent the venture capital startup community into a frenzy:
Giving out equity in startups benefits ownership way more than employees. It allows the owners to push employees harder and harder because "you've got skin in the game now… you're an owner." No you aren't. Owning less than 1% of anything isn't ownership.

— Jason Fried (@jasonfried) February 27, 2020
Founders and VCs flooded Twitter quickly, calling Jason's perspective "absolute, total, 100% BS", and describing Jason as a "cult leader" spreading misinformation.
When there's smoke, there's fire. This immediate (and overwhelmingly forceful) reaction from the venture community piqued my curiosity. Why was the reaction to Jason's opinion so aggressive? Is there a kernel of truth to what he is saying, or is he as vehemently wrong as the VCs make him out to be?
The major rebuttal to Jason's argument: small ownership stakes can turn into transformative amounts of money, and allowing employees to be a part of this upside is a net positive. Chris Maddern put it well in a tweet:
I respect Jason a lot, but find this opinion hard not to object to.

Just because there's mutual benefit, doesn't mean there isn't employee benefit.

Many peoples lives have been made more financially secure by 0.1% (0.01%?) of a rocket ship they helped build. https://t.co/3KLjYRctNE

— Chris Maddern (@chrismaddern) March 1, 2020
This is unequivocally true; employees with tiny ownership percentages of Facebook, Twitter, Uber, and others received life-changing amounts of money when those companies went public. However, we are aware that most startups fail. The venture model is based on this, with firms making a majority of their money from a handful of successful investments over a 10 year period.
I moved to NYC because I believed in the life-changing power of joining a fast-growing startup. I bought into dreams of "riding a rocket ship" and hustling to help a company "ring the opening bell" on Wall Street someday.
Once I found a fast-growing startup, I was all-in. I worked around the clock to hit deadlines. I slept overnight at the office on a handful of occasions. And I cheered on at our all-hands meetings as co-workers demonstrated "grit" with similar demonstrations of sacrifices to their personal lives and health.
This energy was fueled by my belief that my options were worth their weight in gold. I deeply internalized this; I'll never forget the feeling of disappointment when I was told my yearly bonus would be cash and not more stock options. In 1:1s with my manager, I would be told "you're going to be rich someday", a not-so-subtle reminder that monetary success was in my future so long as I believed in the company and worked hard.
Unfortunately, the first "rocket ship" I joined fell back to earth, eventually filing for bankruptcy as my initial dreams of rolling in the dough fizzled out. And while I knew the risks going in, I do look back and wonder: was focusing on joining a fast-growing startup the right decision from a financial perspective? Would I have been better off working for a big company instead?
Let's investigate by analyzing data pulled from Crunchbase.
Working through the numbers
To make this analysis personal and contextual, I focused on analyzing startups founded in 2008-2012 in NYC. This creates a cohort of companies that I most likely would have joined when I first moved to NYC in 2013.
For the purposes of this discussion, I'm seeking the answer to the following question:
What are the odds that an employee joining an NYC startup in 2013 will have seen an "employee-friendly exit" of their stock options?
We can define an "employee-friendly exit" as either (1) an IPO or (2) an acquisition at a price 2x the capital raised (to account for VC liquidation preferences). For example, a startup that raised $20M from VCs and was acquired for $30M would NOT be considered an employee-friendly exit as the gains would be realized by the founders and VCs, not the general employees.
According to Crunchbase, from 2008-2012, 2,926 companies were founded in NYC. Of those, only 32 (1.09%) had an employee-friendly exit:

So if you were to have joined a startup at random in 2013, you'd have about a one in a hundred chance that your stock options would have had a meaningful payout for you.
This analysis, however, doesn't account for companies that are "still baking"; that is, companies that have not yet exited but are still on track to deliver a significant return someday. Companies based in NYC that fit this bill include Warby Parker, Rent the Runway, and Glossier.
To generate a list of "still baking" firms, I filtered for startups that have raised venture capital in the last 3 years and have over 100 active employees on LinkedIn. Why? Because (1) this information is readily available and (2) are strong signals of company growth.
According to Crunchbase, there are 37 "still baking" companies. By adding these in, our odds increase to 2.36%:

Even if we factor in the future potential, it is still extremely unlikely for options to pay out. The odds are the equivalent of picking up these dice and rolling two sixes:
However, our analysis so far is for every startup founded in NYC, including a vast majority of companies that never make it past seed stage. And when I moved to NYC, I was only considering fast-growing startups that had a higher level of product-market fit: generating revenue, traction with customers, and were rapidly hiring.
So let's build a cohort and look at the data like I did during my interviewing process and see what the results look like when you are only focus on companies that were able to raise $10M+ in venture capital:

Interesting. Next, when we factor in the "still baking" startups as well:

By eliminating the seed stage startups which weren't able to generate traction, we are able to 10x our odds.
So, if if you're strategic with which startups you interview with, you can significantly increase the odds of your stock options becoming valuable someday.
Conclusions
Based on this data, it is unlikely for startup stock options to make a meaningful financial impact for most startup employees. And while you can significantly increase the odds by selecting a company with traction, most startups will not live up to their rocket-ship aspirations.
Stock options are not gold bars, waiting to be unlocked from the safe at the end of your vesting schedule. Options are a lottery drawing, and while some winners get their numbers called, we shouldn't upend our lives in the off-chance we guessed the right numbers.
The venture community knows the math and understands these low probabilities better than anyone out there, as they're the ones who have to report the financial performance to their LPs. And after examining these numbers first-hand, it makes one wonder why the venture community so aggressively signals the benefits of stock options and the downstream impact this signaling has on startup employees.
Perhaps if employees better understood the odds, stock options would lose their luster a little bit. Perhaps employees would stop trying to out-compete and out-hustle one another and instead focus on rest and recovery to maintain more sustainable and healthy levels of productivity?
To be clear, we aren't venturing into Ponzi scheme territory; a small minority of startup employees can obtain life-changing amounts of money from their options.
But if you're the average startup employee, you should know your odds. Internalize the fact that your options are not likely going to make you money, and set healthy boundaries to ensure the company doesn't use options as a tool of coercion or manipulation or endangers your physical or emotional health.
And remember, even in the best-case scenario, options are still an unfair power dynamic. In the rare chances of an employee-friendly exit, you'll still only receive 1/1000th the upside of the company's founders.
If I could go back and do it all over again, I still would have joined the startup, as a 1 in 4 chance to make some money are decent odds. However, I would have set more boundaries and cultivated a healthier work/life balance. Did I really need to emulate Elon Musk and sleep in the office Did I really have to have intense debates with my co-workers on Slack until 11pm at night? Did I need "working at a startup" to be my entire identity?
No.
We should all remember that working at a startup isn't something special or magical. It's a job. A contract between yourself and an employer changing your time for money. And owning a few basis points doesn't change that.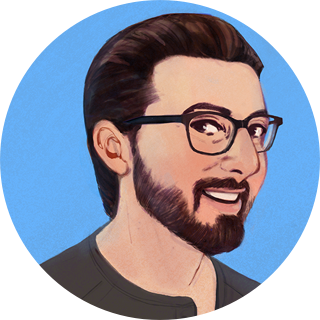 Jim England
Hello! I'm an entrepreneurial product designer that helps product teams understand their customers, work better together, and improve key business metrics. If you enjoyed this article, please follow me on Twitter and subscribe to my newsletter to get the latest: