We all crave purpose and meaning in our work.
When we deeply understand the "why" — what fuels and ignites our passion — we our emotional resonance with our work grows. This in turn expands our competencies, provides clarity to make better decisions, and unlocks higher levels of sustainable productivity.
In my journey to become the best product designer I can be, I wanted to better understand and find my why. What intrinsically-motivates me to create new product experiences? What gets me out of bed in the morning?
As an exercise in defining my "why", I decided to write a love letter to my profession. I identified what makes me personally love product design and the moments that make designing products most rewarding, satisfying, and invigorating to me.
After completing this exercise, I feel a renewed sense of enthusiasm about my work, and it has helped me clarify which environments and situations I can be most effective and productive in.
Keep reading to learn about what I love in product design and how to write your own love letter to your profession.
Why I love product design
You work together as a team on a shared goal
Product is the ultimate team sport. We can't succeed if we don't work together to identify the major problems of the customer and elegantly solve for them.
I love that feeling when the team first starts to "click", where we gain momentum towards achieving a goal, when we're increasing our velocity and unlocking a group flow state.
It feels so rewarding to be a part of a team and understand how your individual contribution helps everyone find meaning in their work. And when we're firing on all cylinders, we end up achieving more than the sum of our individual output.
There's a clear measure of success
There's little ambiguity in product design: you either designed something that delighted the customer and helped them achieve their goals or you did not. And the fun comes down to not truly knowing if what you've designed will succeed until customers interact with it.
Shipping a new feature to production and seeing the customer response is an incredibly-engaging variable reward mechanism.
The ultimate study of human behavior
Humans are fascinating creatures with complex emotions, irrationalities, and complicated social norms and customs.
To be a great product designer, you have to go beyond the conversion rate metrics of the funnel and know what the customer is thinking and feeling at each step in your flow. You can then use that knowledge to design the ideal experience, knowing when to lean in and provide guidance and support.
I love learning about the rapidly-expanding field of behavioral psychology and applying the latest research insights to my work. It's so rewarding to read Thinking Fast and Slow, understand the basics of how our brains operate, and then make your product better with new insights.
The engineering complexity puzzle
I love the experience of working with engineers to build my designs. I love collaborating, negotiating, and identifying win-win trade-offs that maintain 80% of the customer benefit for 20% the engineering cost.
I love working with talented engineers who can explain to me the underlying mechanics of software development, improving my mental model of the system architecture so that my designs can better fit the structural framework.
The little details are so satisfying to get right
I love zooming in on a key interaction or moment in an experience and crafting it with an engineer until it feels absolutely perfect. You can almost feel the pixels you're manipulating as you reload the screen again and again and again to make it just right.
It's the closest feeling to "working with your hands" that you'll get as a digital knowledge worker.
Learn about new industries
As a product designer, you will be exposed to many different businesses in different industries. When you are on a new project, you'll quickly get a "crash course" on how an entire segment of the economy operates, connect with people you may have never had a chance to meet, and be exposed to all kinds of new industry jargon, terminology, and mechanics.
I love this part of a new project. Learning as much as you can about a new industry is rewarding and nurtures my innate curiosity to understand "how things work."
And after the initial deep dive, I find it deeply satisfying to be able to "talk the talk" with industry experts and have a value-generating discussion on how our products can make an impact to the industry as a whole.
Gain complementary skills
Products are how the customer experiences a business. And to make an elegant product experience, you must ensure that every aspect of the experience — from the messaging on the landing pages to the operational steps on the customer support team — all fit together into one cohesive vision.
To ensure this cohesive experience, I love learning many complementary skills as a product designer: copywriting, marketing design, data analytics, front-end engineering, business strategy, customer support, operations, and more.
At an early stage company, I love doing many of these things first-hand. As And as the company grows, I really enjoy collaborating with experts in each field who can teach you more about these skills.
It's easy to get into flow state
As a product designer, I love that I have so many opportunities to get into flow state, both by myself and with other people.
Alone, I get "in the zone" when I dive deep into a specific feature. Designing the interface, writing out the functional spec, and crafting the perfectly-worded ticket with Deep Focus playing in the background is a cathartic experience.
I can "get in the zone" with small groups of people as well through focused, in-depth discussions such as:
Interviewing customers to learn more about our product experience
Scoping a feature during an extensive product whiteboard session
Discovering requirements of the next feature with the engineering team
Visualize your personal improvement
With product design, you leave behind digital artifacts from past projects in the form of design files which represent your highest-quality work from that period.
I love opening up old design files from years ago to see just how BAD I was at designing websites and interfaces in the past! And then I get to open a new design file and reflect on how much I've grown.
Your empathy grows
As a product designer, you are at the intersection of many people and their individual needs:
What the customer wants
How the engineers should build it effectively
How the business will be positively impacted
To balance these often competing forces successfully, you must have high levels of empathy and compassion.
You must have empathy for the customers, so that you can learn more about their unique challenges, goals, and motivations.
You must have empathy for the engineers, so that you can craft the experience that they can develop quickly.
And you must have empathy for the operations and customer support teams, as they will have to use what you've designed to help and assist the customer.
This is why I believe that empathy is the secret skill to becoming an amazing product designer. And over the past ten years, it feels amazing to cultivate and grow this skill.
You make a big impact
By helping the customer achieve their goals more efficiently, you are increasing the conversion rate and revenue for the business. It is very rewarding to think about how you've improved the balance sheet of the business you've worked for, improving the odds of raising another round of financing and becoming a sustainable, long-term success.
Experimentation: freedom and focus
Product designers aren't mind readers; we don't really know what customers are thinking as they go through our flows. The best we can do is to come up with reasonable hypotheses for how we expect customers to interact with our experiences and learn from our experiments.
I love how this experimentation mindset provides for both freedom AND structured focus.
You get freedom because there is no objective "right" answer, so you can use your gut instincts informed by data to design the future in a way that makes sense to you.
At the same time, you get focus because there is one goal, one key North Star metric that you can judge the success of your work on. Once your feature ships, you'll get a clear signal on if your design was successful.
This experimentation mindset can be incredibly rewarding, as you can very quickly get direct feedback on your work. And when structured with a psychologically-safe work environment, work can truly feel like play.
–
Now it's your turn
The experience of writing out what I love about my job made me appreciate just how lucky I am to have a creative and rewarding profession and career.
In moments of frustration, challenge, or low motivation, this love letter has become a handy reference to get me through those tough situations.
If this article resonated with you, I'd encourage you to write a love letter to your job.
Your love letter isn't about what you should love to be successful, but instead on what personally gives you meaning and fulfillment.
For example, you'll notice that there isn't any mention of business stakeholders in my love letter. While effectively communicating with business stakeholders is very important to be a successful product designer, it isn't something that I LOVE to do, so I didn't include it.
Here are some questions that can help you get started:
What moments in the work day do you feel the most energy?
When do you feel most proud of your work?
When did you do your absolute best work?
When did you feel like you were in flow state?
What do you find incredibly rewarding?
What stimulates your innate curiosity?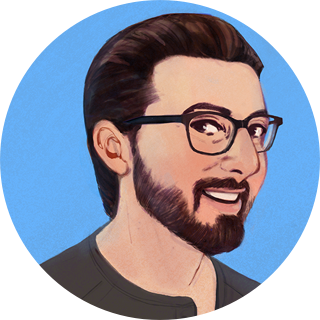 Jim England
Hello! I'm an entrepreneurial product designer that helps product teams understand their customers, work better together, and improve key business metrics. If you enjoyed this article, please follow me on Twitter and subscribe to my newsletter to get the latest: